Mujeristas Collective
Mujeristas Collective strives to create a community for women of color to meet and create dialogue centering our identities and cultures through the arts and community organizing. Our programming varies from teaching zine-making workshops to organizing zine fairs to curating lectures on mujerismo. These events can be hosted in collaboration with Hispanic Heritage Month, Women's History Month or other similar themes.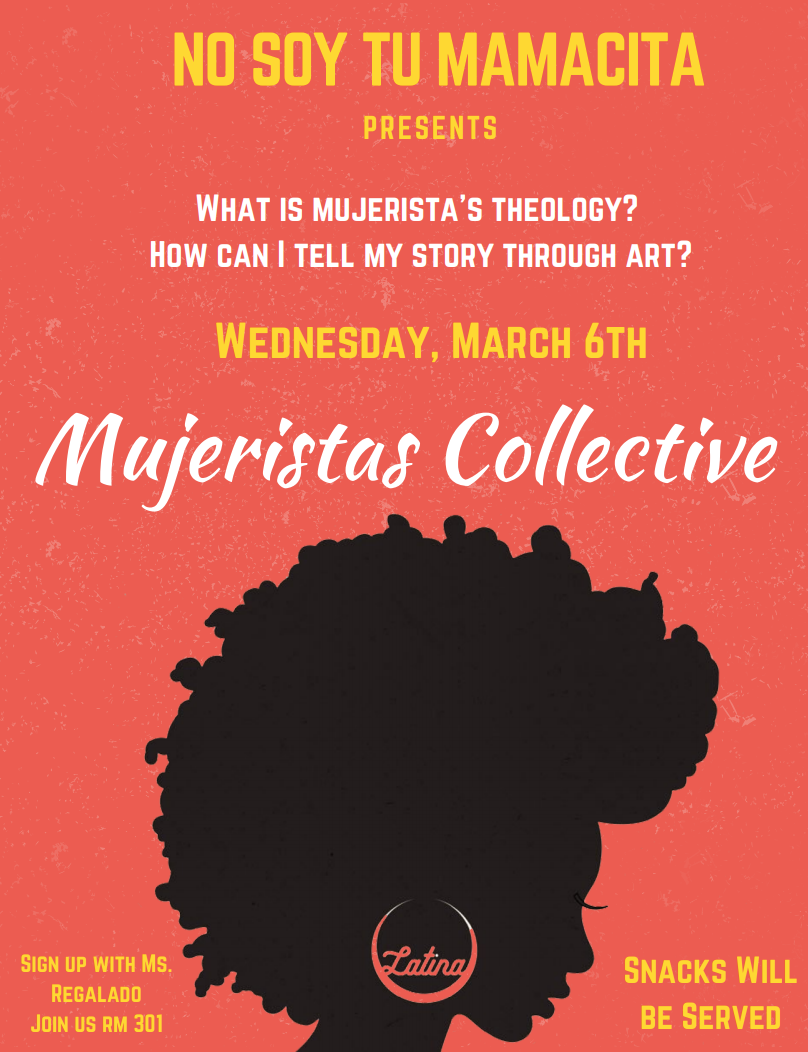 Mujerista Theology and Zine Making Workshop
In honor of Women's History Month, Mujeristas Collective taught a how-to-make-a-zine workshop to the No Soy Tu Mamacita art club at Pan American International High School. Pan American International High School is a public school located in Elmhurst, Queens and the international students are from Latin America.
We had the wonderful opportunity to introduce zine-making as a creative outlet for the students to express themselves and showcase their talent. This four-week bilingual program incorporate the teachings of liberation theology, mujerismo, and how to make a zine using the publishing program Adobe InDesign.
No Soy Tu Mamacita's compilation zine presents artwork and writings centering the student's experience on being silenced by people, memories, or events. The club's statement: "There are many things in this world that can make us feel small. These things such as events in our life, people, and/or memories can cause us to feel isolated and become silent. Some of us are learning what this silence means and where it comes from. Others want to regain our voice and fight our oppressor, whether it be a memory, a parent, a friend, a teacher, the government or ourselves." The compilation zine will be printed and released in April 2019.
The Effects of Machismo in Latin America Workshop
Our first Mujeristas Collective event was held on April 2017 in Prospect Park. Our education coordinator, Yovanna Roa-Reyes, presented her academic research on the origins of machismo and femicide in Latin America. As a group, we discussed the effects of machismo in a global and personal perspective. To extend the conversation, we brought the workshop to St. John's University campus and created free brochures outlining Yovanna's findings on machismo.
Our best interest is to support and partner with women of color artists and collectives in events, product development, and creative production.
Nosotras Zine Fiesta
at June Bar, Brooklyn - September 2017
Nosotras Zine Fiesta is a zine fair featuring Latina zine makers and artists that exist and uphold the zine community in NYC. As a response to President Trump's threat to repeal DACA, Mujeristas Collective organized a fair to raise money to fund DACA renewals and support Latina artists. Our first zine Nosotras and the fair was featured on i-D Vice.
Amor Exchange: Mixer + Zine Release
To celebrate our second issue, Mas Amor, Por Favor, Mujeristas curated an art show showcasing visual work that explores the different relationships mujeres have with breakups. From family deportation to lesbian love, the show spans different mediums and Latinas' experience. We collaborated with female art collective, The Bettys, to host a mixer for creatives to meet and exchange business cards. Amor Exchange: Mixer and Zine Release was held on February 9, 2018 at June Bar in Brooklyn.